Seed Science Treatise
---
The main objective of this book is to help the graduate and post-graduate students of Agriculture to quickly grasp the facts comprehensively and systematically. It is a collection and compilation work from various sources and has been endeavored to include as much information as could be possible. It is realized that the coverage of materials in this book is likely to be far from complete as the information available in seed technology and plant science are immense. In nature, seed plays two critical roles: firstly, it provides a means for survival through unfavorable environmental conditions that alternate with favorable ones and secondly, the process of its formation generates genetic variation that is transmitted to the next generation Man would have been attracted to certain seeds (from among so many different kinds) for yet another reason, viz, their food value; this would have been critical in the domestication of certain plant species. Ever since domestication, a fourth factor became associated with seeds, viz, superior performance under the prevailing conditions of cultivation, that is, maximum exploitation of the available resources. Each and every suggestion and/or criticism for this effort is welcome and give an opportunity to remove the shortcomings.
Dr. Manoj Kumar Sharma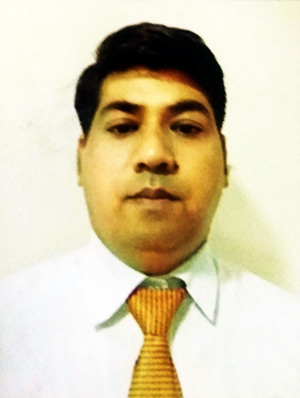 Dr. Manoj Kumar Sharma presently working as Associate Professor and Head, Department of Plant Physiology, S.K.N. College of Agriculture, Jobner. He obtained his B.Sc. (Hons.) in Agriculture from S.K.N. CoA., Jobner in year 2001. He pursued his Master and Doctoral degree from Banaras Hindu University, Varanasi in Plant Physiology respectively in the years 2003 and 2007. He started his carrier as Assistant Professor at Junagadh Agricultural University, Junagadh in August 2008 and as Associate Professor in year September, 2015 at Pearl Millet Research Station in same University.
In March, 2018 Dr. Sharma join SKNAU, Jobner as Associate Professor and become as HOD, Department of Plant Physiology in December, 2019. Dr. Sharma having more then 12-year experience of UG/PG teaching and guided M.Sc. students as major advisor. He is also having equal experience of research work in the field of abiotic stress, seed physiology and mineral nutrition. He worked on many crops such as wheat, groundnut, pearl millet and rice during his research curricula.
He published 10 research paper in national and international reputed journals along with presented and attended his research in more than 15 national and international conferences and seminars. Dr. Sharma is having excellent knowledge of various techniques used in plant and seed physiology research.

Table of Contents..
---
1 Seed: Structure, Type and Development
2 Maturity
3 Seed Viability, Vigour and Germination
4 Seed Dormancy
5 Seed Storage
6 Seed Production
7 General Seed Certification Standards
Labelling of Breeder Seed
Conditions for Inter-Cropping during Certified Seed Production of Oilseeds and Pulses
Maximum Lot Size
Procedure for Construction of Lot Numbers
Screen Aperture Size for Seed Processing
Screen Apperture for Seed Processing of Certain Varieties
Grow-Out Test for Cultivar Purity
Specification for Certification Tag
Model Composition of the Appellate Authority
Extension of the Validity Period
The Central Seed Certification Board
Important Terms
MCQs
Book Details
Book Title:
Seed Science Treatise
Book Size:
AMERICAN ROYAL (6X9)
Copyright Holder:
All Rights Reserved
Books with Same Authors
HB
9788177540987
EB
E-2022-296
HB
9788177545777
EB
E-2022-166
Books with Similar Subjects